This Czech-Brazilian wedding was really something exceptional to plan. When I met them for the first time, I saw a couple sooo in love, so easy going, relaxed and with the best vibe. They only told me they wanted to enjoy their wedding as much as possible. The whole planning was in the same mood. I had created a design board, had suggested decorations, prints and style of the wedding and waited for their feedback. They loved everything so much that they decided to leave pretty much everything up to me. It was very special for me. I appreciate they had so much trust in me and I'm really happy they loved the result. That's the best thing ever!
You can see below, if you like the design and decorations ideas I created. The theme was "boho" rustic but elegant using mostly pale colours.
The wedding of Katka and Gui was rustic / elegant boho style with pale colour palette and a touch of wine-coloured and dark pink to light everything up. We rented different pieces of furniture, carpets, used geometrical shapes and created seating out of pallet furniture.
Chateau Bon Repos, located about 50 km from Prague, offers a beautiful historical pavilion. However the bride had a dream of an outside wedding so we were the first ones who took a chance and did everything outside under a lovely tent.
We brought everything – tables, chairs, flowers, lights, decorations, Bedouin tent, decorated it with light bulbs and of course a great catering company.
In order guests could enjoy the view in the garden, we created a lounge in a shade of trees made of pallet furniture, carpets, pillows and with a little tepee to match the ceremony teepee.
Preperations of the tent, furniture and decorations took us 2 days. And then around noon on the wedding day, preparations of the bride, the groom and their close ones could also begin.
Ceremony was held in a park overlooking all the beautiful trees and also the chateau. it ws sooo magical! I truly enjoyed all the happiness and joy you could see in all the guest's eyes, especially the Brazilian part. This is simply why I love doing weddings…
Chairs and tables were wooden, the decorations were in gray tones, light green and pale colours. I went for a bit for rustic style but with a touch of elegance. How do you like the different type of chairs I chose?
Guests received a little flowerpot of echeveria with "Thank you" tags. Wedding invitations together with all the other prints were styled to Boho style and all the colours we used.
After a lovely dinner there was time for some sweets! And of course all had to match the design concept. I wanted to achieve something interesting and unusual, that is why we chose three cakes with three different flavours. The newlyweds and guests loved the idea so I was really happy! Also I chose a rustic old wooden table for the service.
There was a second lounge made of armchair, sofa, ottoman in front of the Bedouin tent. There were tables with sweets as a part of the seating so it made it very special. To make it more comfortable, we used table lamps, candles and a bulb chain. It was such a cosy and comfortable lounge, guests loved it.
There must be a caipirinha cocktail at each Brazilian wedding. This wedding wasn't any different. Guests could prepare their own drink with a little help of bartenders. The evening party was amazing! There was a live band, guests drank and ate whatever they wanted and the dance floor was full of Brazilian wild spirit.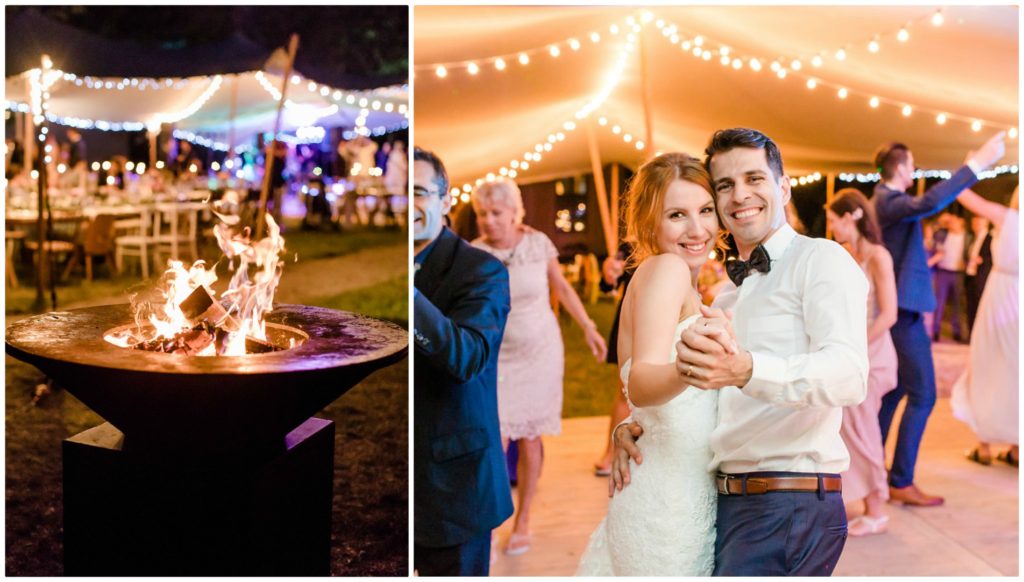 I want thank to every single person who was part of this wonderful wedding. It was so worth it and I loved each minute working on it. It was such a successful wedding! I loved seeing Katka and Gui being so happy and in love. I loved that they enjoyed it together, every single detail, every minute of it. Seeing their happy faces is the biggest "thank you" I could hope for. Thank you for leaving pretty much everything up to me. Thank you for your huge trust! Not only me but all suppliers enjoyed the planning. Sending lots of love to you both to Brazil!
xxx
Lucie

WORDS OF THE BRIDE:
I would love to thank you a looooooooot for all your hard work to make our unique day perfect. We enjoyed it a lot and from all sides there are positive words only. We were 110% satisfied with the choice of suppliers you recommended us. We admire your willingness to fulfil our dream wedding and we are so grateful having you two. Personally, I am happy, I chose your agency and I am glad we managed the long distance planning even though it was not always easy with me. I would love to thank you again, girls. I have never felt such a big gratitude and joy! Thank you again! I hope there will be at least small opportunity to stay in touch a bit in a future. With love, Katka & Gui
I would like to thank to all suppliers who were part of this wedding. Thanks to them all dreams came true.
Venue: Chateau Bon Repos
Wedding planning & design: Lucie Hola Weddings
Photographer: Dara Rakovcik