Jordan and Brenton are an Australian couple who contacted me in order to organize their wedding in the Czech Republic. They chose Czech Republic because they fell in love with it when they were travelling around Europe. I knew they had been looking for a romance, a history and a place for a great party. I suggested some options for a perfect wedding in Prague and also around. Then I suggested a combination of these 2 castles ideal for wedding in Czech, which are not too far from each other. They immediately fell in love with that combination and planning could begin. Not an easy planning, let me tell you! Combination of 2 popular chateaus where you have to bring everything externally is challenging but so worth it!
It was a real destination wedding as the couple couldn't come even once before the wedding so I did everything for them – driving around all the possible venues, tasting the food, wine, cakes, meeting all suppliers and venues.
The wedding of Jordan and Brenton was elegant, subtle, romantic and sophisticated in details. It was a 4-day wedding, all guests were from Australia and were very pleasant. We had a lot of fun together in those 4 days. It was one of the most demanding wedding of last summer, mainly due to several locations, two wedding venues and the early time of the wedding ceremony. I had been sleeping in South Bohemia for 3 nights and accompanied the guests at all events and I must say that after that time I spent with them, it was difficult to say goodbye.
1st day I planned a welcome dinner where all guests could get to know each other well and have a rest after a long journey.
2nd day I planned a day trip to Český Krumlov with dinner and drinks on the terrace with a city center view.
The wedding itself took place on the 3rd day. And it was THE perfect wedding, even better than in Jordan's dreams as she said :-). Check it yourselves. I hope you will inspire you.
We chose a colour palette very subtle and elegant, as well as the rest of the decorations. For the ceremony I suggested to use golden chairs, for a reception we have chosen others. The white carpet could not be missing. The ceremony was carried out according to Australian customs, several readings, which were read by family members, mutual vows and of course the exchange of rings.
After the ceremony, guests took a walk around the Chateau, and had something to eat and drink (including a special pink drink of course :-)), gentlemen had beer, whiskey, etc. The newlyweds had time to take pictures in front of their dream Chateau.
It was raining at the end of the cocktail hour, we had to use a plan B – move all the cocktail tables and decorations to the restaurant, arrange umbrellas for guests and newlyweds, arrange a bus and cars to reach the hill (Which is forbidden but we made it happen!), while it was super heavily raining. I will never forget these moments, and that is why I love my job. Seeing everyone so happy we managed even such difficult situation.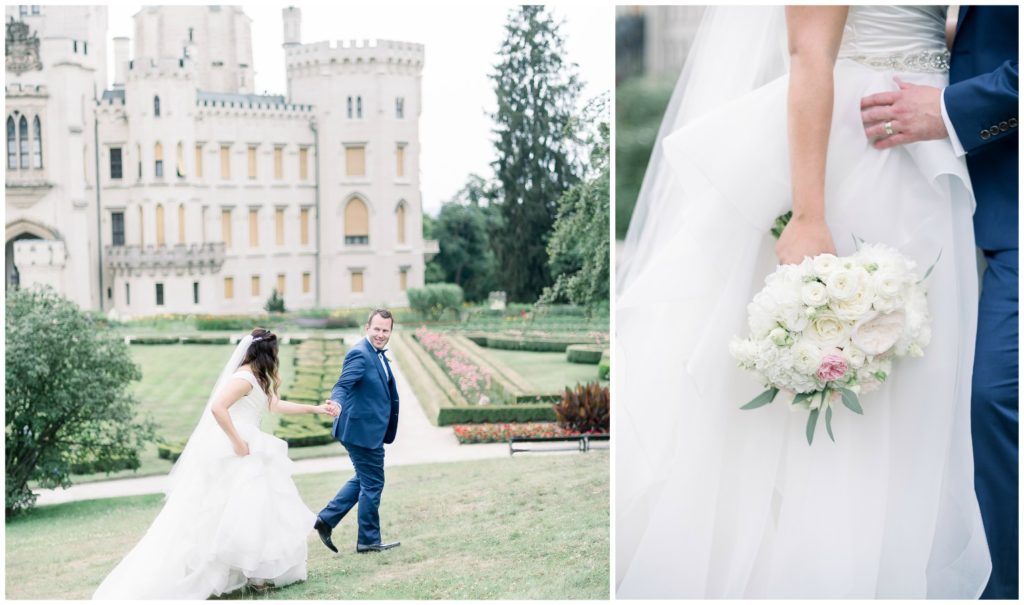 After arrival to the main Chateau (our base where everyone was accomodated) a second cocktail hour began. Guests had a time to chat, have a glass of pink champagne, eat some canapés, use a polaroid, or go relax to their rooms. After that, the wedding official dinner, the main part the bride was the most looking forward to, began.
For a wedding reception, we chose again a decent design, all in white-cream-powder pink-gold colour palette. There were candles everywhere, and a special lighting to create an elegant, almost magical atmosphere. I chose white-cream wooden chairs, pink napkins, gold carved name tags and golden cutlery could not miss as well as other golden decorations.
We chose biscuits with white-pink watercolor pattern and golden slices as a gift for guests.
There were many speeches during the wedding reception, which were really worth it. There was an incredibly positive and cheerful atmosphere which I will always remember. The groom thanked to me and my colleague Jana and gave us an amazing Australian present – the UGG boots. Thank you! Not just for a gift, but for everything.
There was an open air music after the wedding reception for a while. The newlyweds had their very first dance as a married couple, a throwing of a bouquet and a cutting of a wedding cake took place outside too. It was a time of romance.
The wedding cake was inspired by the bride's dress, the bottom part represented her skirt, pearls her shoes and belt. The golden stripe on top was a minimalist detail to connect beautifully the whole wedding.
And then the real Australian party began.
It took a year to plan this wedding, it was very hard demanding work, but on the other hand I enjoyed it, because Jordan and Brenton were great, well-organized, they knew what they wanted, but were open to new ideas and an advice too. It was a joy to plan it and organize it for them. Afterall, I feel sad that our cooperation reached the end. On the other hand, I was assured by many guests, I am their family member now, and when I go to Australia, I must stop by. It was a real gift to meet people so relaxed, pleasant, positive and cheerful. It was a dream wedding for me.
Thanks for all your trust, kindness and love :-* it was simply magical…

If you would like to read some testimonials, here are some I received:
1) Text message from the newlyweds from the morning after wedding:
Good morning Lucie, Brenton and I just wanted to say a massive THANK YOU for everything you have done for us. The whole event was a massive success and we couldn't have done it without you. It was perfect in every way. Every guest mentioned to me what a good job you did, and how much of a good time they were having. Xxxxxx
2) Words of the bride:
Let me start by saying, Lucie and her business is one in a million. Lucie and Jana planned our 4 day wedding in South Bohemia for us, whilst we live in Australia. We brought 50 guests (adults, teenagers and babies) with us to Prague and transported everyone to South Bohemia for our 4 day event. Nothing was ever too hard or difficult for Lucie and her team, we were treated like royalty over the 4 days she was personally with us. Over the course of planning our wedding, we were given expert advice around what needed to be done (from budgets, to locations, venues, suppliers, what to expect etc). I never felt in the dark about anything even though we were so far away. Lucie knew my vision and we clicked, everything was better than I ever imagined it could be. To this date we still get comments from guests about how spectacular our wedding was, and how helpful Lucie was over the 4 days with questions and keeping everyone informed. The events were planned to the smallest detail; many dietary requirements, beautiful welcome bags in the hotel for the guests, even sewing my wedding dress back in place when the groom decided to step on my train!). Literally couldn't fault her, I will enjoy the process and enjoy your day fully without worrying about a thing.
3) Words of the groom:
Lucie managed our wedding whilst we live in Australia. We were recommended her after first liaising with a planner who was not up to our standards. Lucie managed a four-day wedding in a private chateau for us and it was absolutely amazing. Jana her assistant was also terrific. We have become very good friends with her over the process as well and if we could do the entire thing over again we would. If 10 stars was an option Lucie would get 10 stars. Do yourself a favour and use her, you will not regret it. AMAZING!!! Thanks Lucie!
I would like to thank to all suppliers who were part of this wedding. Thanks to them all dreams came true.
Photographer: Matěj Třasák / Videographer: Otash / Florist: Frezia Fleur / Prints: Trumade / Cake and sweet bar: PunkRockCakes / MUA&Hair: Natálie Jáchimová and many others!